Troi at FileMaker Developer Conference 1999
Troi Automatisering was present at the FileMaker Developer Conference 1999 in San Diego. Troi showed its products at the Showcase, and Peter Baanen was a speaker. He presented these sessions:
Integrating Plug-ins Into Your Database
(together with Vince Menanno of Waves in Motion)
Plug-ins are a powerful way to extend a FileMaker Pro database functionality. This session will explain what a plug-in can do and how to begin using them. We will also teach you how to start using the growing number of plug-ins and how to integrate the external functions they provide in a database. A step by step fully functional sample database will be built. You'll also learn to avoid the pitfalls when using plug-ins and get tips on deploying a runtime database.
How to Program Powerful Plug-ins: Learn to Program Through Hoops
Session Owner: Peter Baanen. Plug-ins can add great features to FileMaker Pro, but programming plug-ins in the C programming language is not a trivial task. This session assumes that you know the fundamentals of programming in C. It teaches you how to use the External Function API (Application Program Interface) and shows how to create a real world and cross platform plug-in with it. The key steps in developing good plug-ins, design, implementation and testing will be discussed. Programming tips and pointers to more information are given. Finally this session shows you how to push the API to its limits to get results beyond what the API was intended for!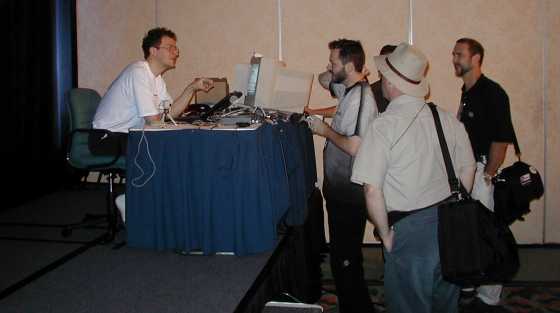 Peter Baanen answers questions after session
Click here for a photo impression.