Troi Scout FM 1.0
main page | download | screenshots | buy-it
Troi Scout FM 1.0 released!
(March 12th, 2007) Troi Automatisering is proud to announce the public release of Troi Scout FM 1.0!
What is Troi Scout FM?
Troi Scout FM is our new and exciting utility for FileMaker Pro! With Troi Scout FM you can select text in any Mac OS X application and have Troi Scout FM find this text in your database with only a keyboard shortcut: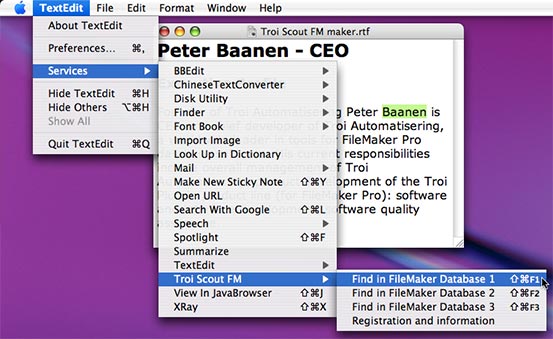 Understanding what Troi Scout FM does
| | |
| --- | --- |
| The concept of Troi Scout FM might be at first a bit difficult to grasp. It is different from FileMaker plug-ins, in that is starts from outside FileMaker! You start by selecting some text, for example a name in a Safari web page and let Troi Scout find this text in your database with only a keyboard shortcut. We have created a QuickTime demo movie showing how it can be used. | |
Test Troi Scout FM today!
We have a fully functional demo for you to test without risk. It contains an installer and an example FileMaker Pro file to get you started.
Go to our download page.
Great Introduction offer
Troi Scout FM has the following pricing:
New Licenses:

Price

Single user license:
25 user license:

US$ 59 per user
US$ 399
Buy Troi Scout FM online today!
100% Satisfaction Guaranteed!

All our products come with a 30-day money-back guarantee, so there's no risk in licensing our software.
More to come
We hope you like it as much as we do! Let us know what you think of it!
Requirements
Troi Scout FM works with Mac OS X 10.3.9 or

Mac OS X 10.4.5 or higher.
We have tested it with the following FileMaker Por versions: FileMaker Pro 6, 7, 8 and 8.5.
Related page
External links on Mac OS X Services Menu
Below you find a few useful external links to web pages on Mac OS X Services Menu.
---